Following the first-ever Tropical Storm-cancelled Hollywood to Koreatown CicLAvia that was to happen on August 20, we're down to seven CicLAvias in 2023. But the weather will be most definitely non-torrential this Sunday (76 and mostly sunny), so it's safe to assume we're good. This time around, what was supposed to be the 48th open streets event is now the 47th – a one-mile "CicLAmini" trek along Lankershim Boulevard between Chandler Boulevard and Camarillo Street, with a two-block long dogleg spur east along Magnolia Boulevard to Vineland Avenue.
If this route seems somewhat familiar, it is. It was part of the North Hollywood to Studio City "The Valley" CicLAvia on March 22, 2015, although that one continued past Camarillo Street and headed west down…Ven-tura Boo-le-vuaard (sung like Tom Petty now). But this mini-morsel of CicLAvia will give us ample time to hang out and chill in the restaurants, shops and cafes of the NoHo Arts District.
The Militant would like to say that though he's still learning the ropes here under the new blog site, this new WordPress format is sooooooo much easier to work with than that pain-in-the-ass Blogger.com thingamabob. He doesn't have to pull out his hair anymore. What a relief.
Like the Watts CicLAmini, The Militant will just be leaving his bike behind and walking it, so if you see a familiar camo-garbed masked figure in combat boots sauntering down Lankershim or on the (B) Line train, raise a fist and he may or may not raise his back.
See you or not see you on the streets this Sunday! Happy CicLAmini!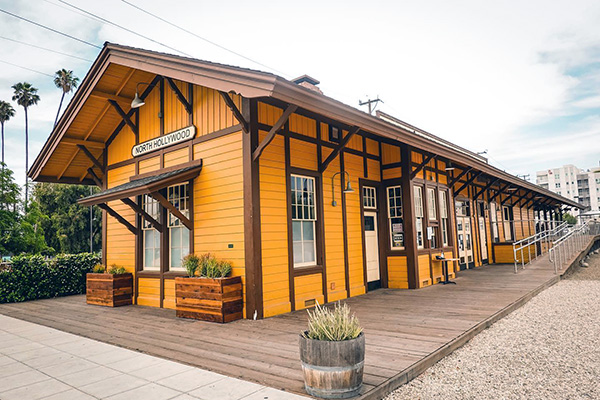 1. Historic Lankershim Depot
1893
5351 Lankershim Blvd, North Hollywood
Metro (B) and (G) Line riders might wonder exactly what is up with this old-school looking poppy-orange wood building. Alas, it's one of the oldest surviving buildings in the San Fernando Valley. Built in 1893 as the Toluca Depot by the Southern Pacific Railroad along what was then the railway line from San Francisco to Los Angeles, it fielded both passengers and freight — namely San Fernando Valley produce, such as peaches and oranges — for a number of years. In 1911, the building was moved 50 feet to make room for the new Pacific Electric Railway, and the station served both the Southern Pacific and Pacific Electric until the last Red Car ran in 1952. Six years later, the Southern Pacific passenger trains stopped using the tracks and the station was repurposed as a lumber company's loading dock for freight cars. The line was abandoned in 1993, but soon after the new Los Angeles county Metropolitan Transportation Authority (a.k.a. MTA, now Metro), purchased the property as part of a construction staging area for the North Hollywood subway station. When the station opened in 2000, the transit agency announced a commitment to eventually restore the station, already a Los Angeles City Historic-Cultural Monument. In October 2014, Metro completed a $3.6 million renovation of the building, and even repainted it with the original colors the Southern Pacific built it with. In February 2017, the building re-opened as a Groundwork Coffee location.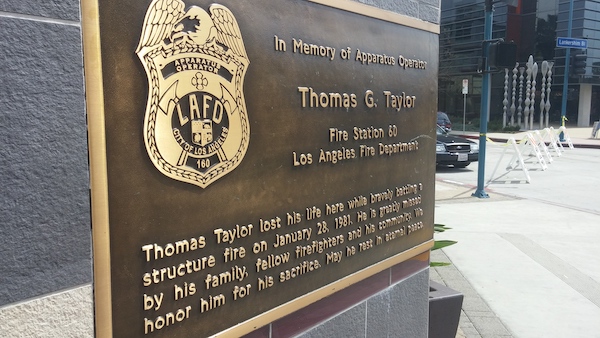 2. Firefighter Thomas G. Taylor Monument
2001
5300 Lankershim Blvd, North Hollywood
In the early morning hours of January 28, 1981, a fire broke out at what was then Cugee's Coffee Shop. While members of Los Angeles Fire Department Truck No. 60 were cutting a hole in the roof of the building, it collapsed, killing Apparatus Operator Thomas G. Taylor, a seven-year veteran of the LAFD.
The fire was later discovered to be an arson fire, planned by the restaurant's owners to collect insurance, and paid Van Nuys barber Mario Catanio $2,500 to burn their restaurant down. The owners were each given 10-year prison sentences but Catanio was sentenced to 25 years to life. He was denied parole in 2012.
When the current building was erected in 2001, a bronze memorial plaque for Taylor was placed on the corner of the building where Lankershim intersects with Weddington St. It was covered by The Militant in a blog post on North Hollywood in 2010.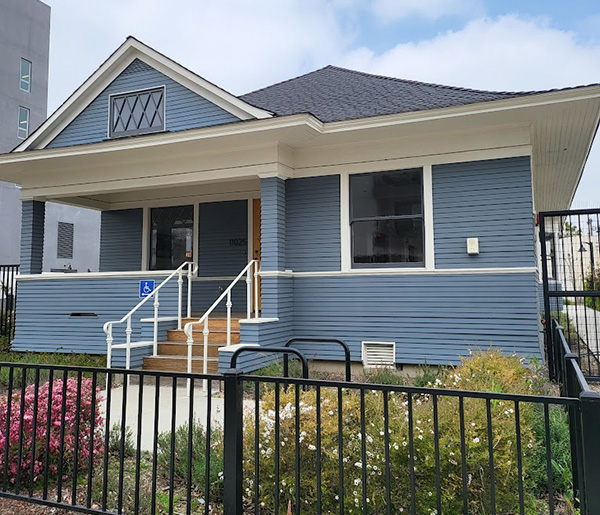 3. Weddington House
1891
11025 Weddington St, North Hollywood
This blue clapboard bungalow, considered "The Mother House of North Hollywood," on Weddington Street, nearly a block east of the CicLAvia route, has a long and storied history.
In 1889, a farmer from Storm Lake, Iowa named Wilson Weddington visited his sister, who lived in the San Fernando Valley, and fell in love with the place. So much, that he not only moved his own family here, but he dismantled his house and had it shipped by train to what was then known as Toluca.
Weddington, considered one of the founders of North Hollywood, had the house re-assembled in 1891 adjacent to a barley field. It was renovated in 1904, and later moved to make room for the El Portal Theatre. The building was moved three times down the same street, eventually resting in its current location, where it has been standing since 1924.
The building, a Los Angeles City Historic-Cultural Monument, was once proposed to be moved yet again to Heritage Square in Highland Park, but ultimately it was decided, thanks to the efforts of community members and Weddington family descendants, in 2016 to have it fully restored and stay put to be integrated with a modern multistory apartment project next door, appropriately named, "The Weddington."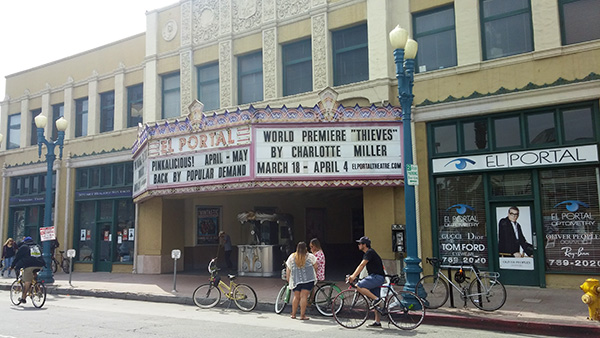 4. El Portal Theatre
1926
5269 Lankershim Blvd, North Hollywood
Before there was a "NoHo Arts District," there was the El Portal.
Opened October 5, 1926 as a 1,346-seat Vaudeville venue and silent movie cinema run by Fox West Coast Theatres, and later, as part of the National General and Mann cinema companies, featured those moving pictures that talk. The theatre and its iconic (well, for NoHo folks, at least) Art Deco facade was designed by architect Lewis A. Smith, who also fashioned the Vista Theatre in East Hollywood and Highland Park's Highland Theatre. It screened films until closing in the 1980s. In 1994, it was a victim of the Northridge Earthquake and was rehabbed in the late 1990s, re-opening in 2000 as part of a re-development renaissance along Lankershim created with the opening of the Metro Red Line station, which in turn sparked the neighborhood's re-branding as the "No-Ho Arts District." What comes around, goes around.
Today it operates as three theaters featuring mostly independent plays, dance productions and musicals, and it was also the recipient of the carpeting from its organ donor, the late Schubert Theatre in Century City.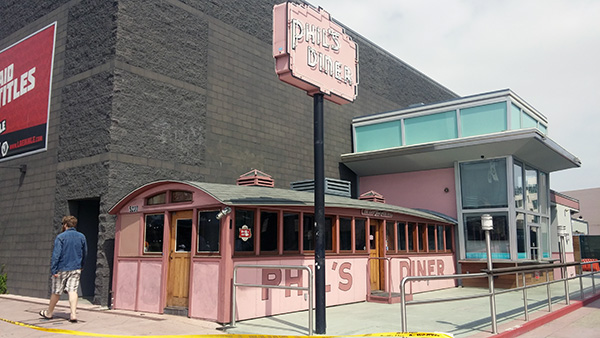 5. Phil's Diner/Bruxie
1926
5230 Lankershim Blvd, North Hollywood
Originally built for the J.F. Philip local restaurant chain, this peculiar-looking diner was originally built in 1926 at Lankershim and Ventura to resemble a railroad dining car. But unlike actual repurposed dining cars like Sunset Strip institution Carney's or even the former Pacific Electric Red Car at West Hollywood's Formosa Cafe, this dining car was merely a building meant to resemble a railroad dining car. It was later moved to a more appropriate location, on Chandler Boulevard next to the Historic Southern Pacific/Pacific Electric Lankershim Depot, where it spent most of its history as an eatery in the North Hollywood community. Beginning in the 1970s, Phil's Cafe was run by Charles and Wendy Hong, a Korean couple who served Asian fusion comfort cuisine before it became an actual thing. The business closed in the late '90s due to the impart of Metro Rail subway construction nearby and the property was moved and put in storage nearby until it was restored and brought to its current NoHo Commons location in 2011. A new incarnation of Phil's Diner operated for a few years before it closed again. More recently, the establishment was revived under the Bruxie chicken & waffle chain. It was also featured in several movies and television shows, including a 1994 episode of The X-Files.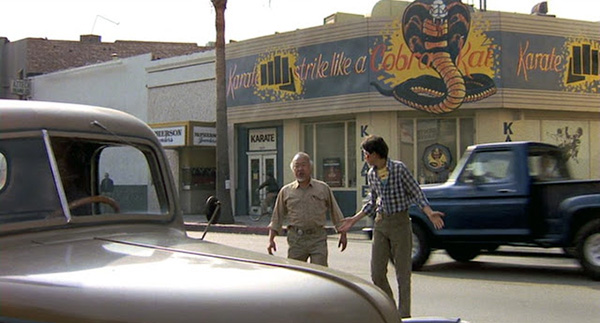 6. Original Cobra Kai Dojo Location/House of Intuition
1926
5223 Lankershim Blvd, North Hollywood
This CicLAmini might be a short route, but it shows NO MERCY! Just across the street from Phil's Diner, this is the location of the original Cobra Kai martial arts dojo from the legendary 1984 motion picture, The Karate Kid, one of the most iconic movies of the 1980s filmed and set in the San Fernando Valley. Of course, the modern-day dojo from the Netflix Cobra Kai series is in a mini-mall in Atlanta, Georgia (Booo!), so don't go looking for that one. Like the nearby El Portal Theatre, this storefront was built in 1926 and the facade was modified for The Karate Kid. Today, the location is home to New Age products store House of Intuition. Why is the building still here? Because COBRA KAI NEVER DIES!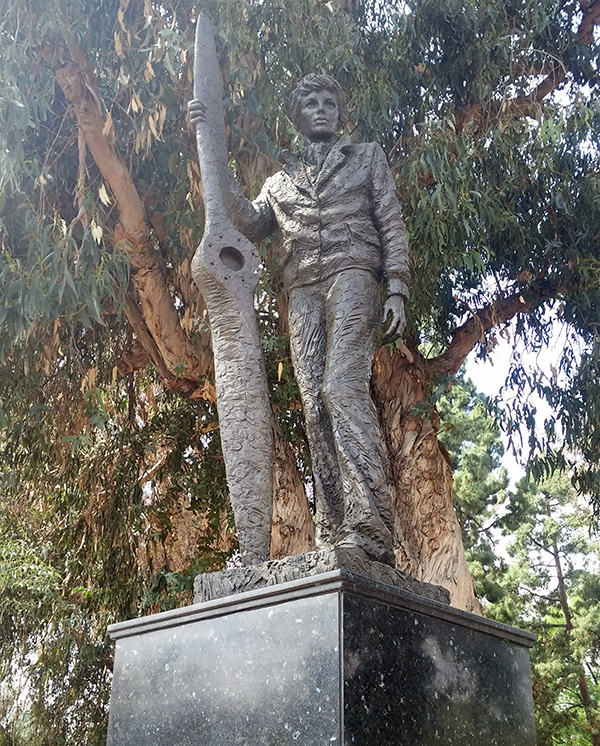 7. Amelia Earhart Statue
1971
Magnolia Blvd & Tujunga Ave, North Hollywood
The twentieth-century female aviation pioneer and feminist icon had several ties to the North Hollywood (and adjacent) area: In 1935 Earheart moved to a house in nearby Toluca Lake — her last residence (or at least, her last known residence…). A number of the planes she flew in her famed flights were designed and built by Lockheed in nearby Burbank.
In 1971, a steel and fiberglass statue, sculpted by Ernest Shelton, was placed on this corner of Magnolia and Tujunga at the edge of North Hollywood Recreation Center. Just a few yards north on Tujunga, the Los Angeles Public Library's North Hollywood Regional Branch was renamed the "North Hollywood Amelia M Earhart Regional Branch Library" in 1981. In 2002, the statue was temporarily removed for renovation, and it returned in 2003, this time rebuilt in bronze.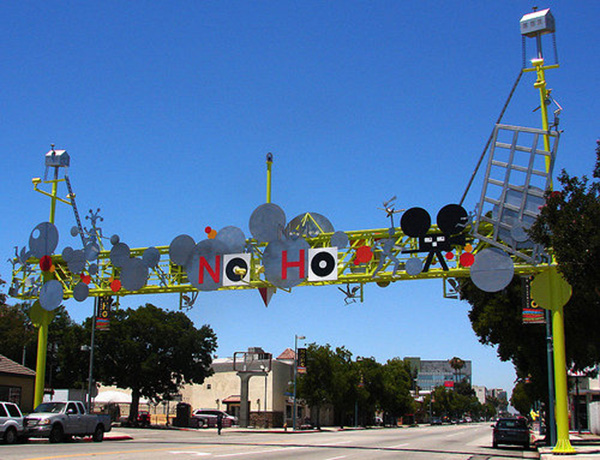 8. NoHo Gateway
2009
Lankershim Blvd & Huston St, North Hollywood
Love it or hate it, it's there, and it welcomes all to the NoHo Arts District. A project of the now-defunct Community Redevelopment Agency of Los Angeles, the quirky, $800,000 NoHo Gateway was built in July 2009 and designed by artist Peter Shire, known for his equally-quirky-but-not-nearly-as-controversial art sculptures in the landscaped (former Pacific Electric) median of Santa Monica Boulevard in WeHo. This was also covered by The Militant in his 2010 blog post on NoHo.
What does the Militant think of it? Well it's, definitely quirky…but people will get used to it eventually (a Facebook page called "Tear Down the NoHo Gateway" has not had any activity since 2011, so maybe it's a sign that people are warming up to this thing…). Such is art!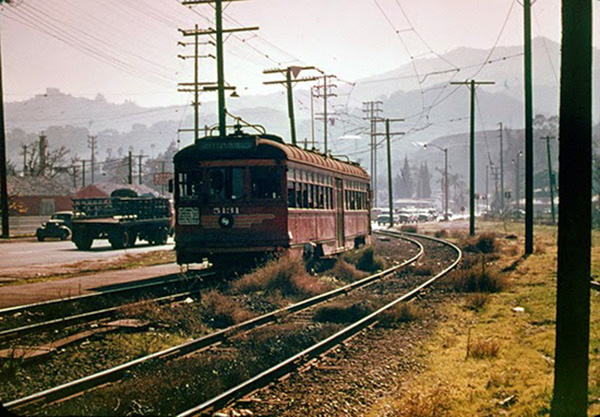 9. Vineland Avenue – Pacific Electric Right of Way
1911 (abandoned 1952)
Vineland Ave between the 101 Freeway and Chandler Blvd
The CicLAvia route cuts through the bewildering six-way intersection of Lankershim Blvd, Vineland Ave and Camarillo St. But look down through Vineland — see that landscaped median? If you know your Los Angeles history, you know what that means. Like Leimert Blvd from previous CicLAvias, this, too, is an abandoned streetcar right-of-way. Vineland Avenue carried Pacific Electric Red Cars between the San Fernando Valley and Downtown Los Angeles. From the other side of the hill, the Red Cars cut through the Cahuenga Pass (now the 101 freeway) and turned north on Vineland, where they once went all the way to San Fernando, Canoga Park or Van Nuys, all except the Van Nuys line closed down in 1938, with the final line closing in 1952. Just south of Chandler Blvd, the line through Vineland curved west (the diagonal wall at the Big Lots store on Vineland and Chandler is a vestigial remnant of this line) to join Chandler, where trains passed through the Historic Lankershim Depot (right back where we started from!).