It hasn't even been a month since the last CicLAvia, and here we are, coming up on the 48th-ever CicLAvia, the 6th of seven in 2023 – It's the annual Downtown-centric 'Heart of L.A." route, which has now officially supplanted the Old and Busted 4th Street Bridge L.A. River crossing in favor of the New Hotness of the 6th Street Viaduct 2.0. The HOLA route (The Militant sees what you did there, CicLAvia folks) has normally been the longest route of the year (especially with a pair of mile-long CicLAminis premiering in 2023), this one clocks in at 7.5 miles. It's technically a new-ish route, though nearly all of the legs have been incorporated in previous CicLAvias: The stretch from Mariachi Plaza to Central Avenue in Little Tokyo, as well as the Broadway trunk of the alignment was last used in last year's HOLA route, and the Figueroa leg was last featured in the October 2014 HOLA. However, the E. 1st Street segment between St. Louis and Evergreen is a first-time route for CicLAvia, although previous routes (2014 and 2018) have ventured in the same territory, albeit a few blocks north via Cesar E. Chavez Avenue.
Sunday is expected to have a high of 90º so it's time to dress light and enjoy Summer 2.0 this Fall Weekend. Unlike many of our previous October HOLA CicLAvias, we probably won't see many CicLAvians in Dodger Blue due to the Dodger Blues of week's NLDS collapse, but Lakers season is coming up, Kings season has just started, LAFC is working on a repeat and the Rams may or may not be still at it.
As you may or may not know, CicLAvia also began on a hot October day in 2010. So Happy 13th Birthday, CicLAvia (you quirky Gen-Z teenager you…)!
If you happen to see The Militant on his bike, raise ya fist in his direction! As usual, see you or not see you on the streets this Sunday! Happy CicLAvia!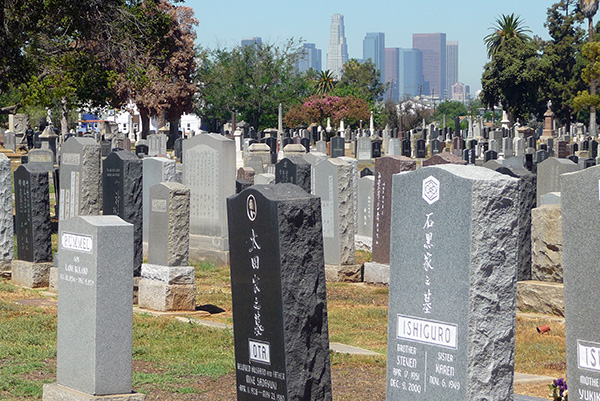 1. Evergreen Cemetery
1877
204 N. Evergreen Ave, Boyle Heights
Over 300,000 Angelenos are laid to rest in this 67-acre cemetery — one of Los Angeles' oldest. The interred are a microcosm of the city itself: people of all races are buried here, as are the rich and influential (including former Los Angeles mayors and people named Van Nuys, Lankershim and Hollenbeck) to the impoverished. The cemetery also includes the reinterred remains of 19th-century Chinese immigrants that were discovered while construction crews dug the Metro (E) Line light rail tunnels nearby. Due to the lack of upkeep, the cemetery hasn't lived up to its name lately, but taking a stroll through the grounds here can offer a unique history lesson.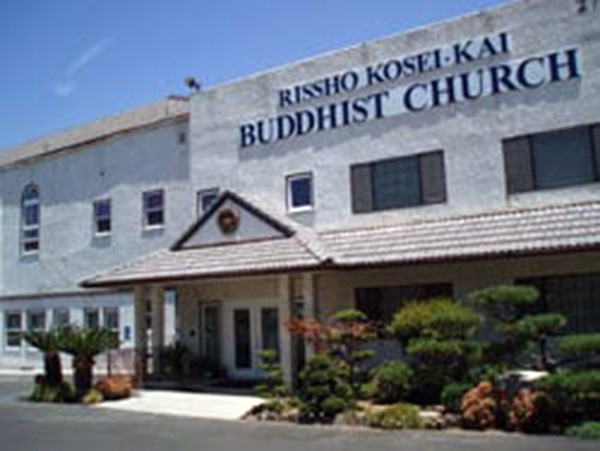 2. Little Tokyo East
1920s
Centered near 1st and Mott streets, Boyle Heights
The historically multicultural Boyle Heights was also home to a large Japanese American community prior to World War II, during which they were taken away to be incarcerated in far-away Relocation Camps. After the war, with their old neighborhoods changed, most of them moved elsewhere. But some returned to Boyle Heights and today by riding just a couple blocks north on Mott Street, you can still see remaining traces of the community, along East 1st Street between Soto and Evergreen, including Rissho Kosei-kai Buddhist Church (2707 E. 1st St.), Tenrikyo Mission (2727 E. 1st St.), Konko Church of Los Angeles (2924 E. 1st St.), Tenri Judo Dojo (129 N. Saratoga St.), Rafu Chuo Gakuen School (204 N. Saratoga St.) and Otomisan Restaurant (see the CicLAvia Food Guide below).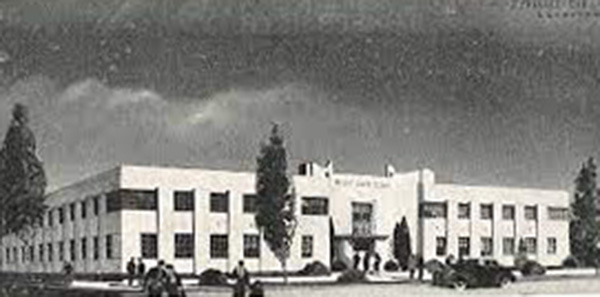 3. Original Site of Mt. Sinai Clinic
1941-1955
207 N. Breed St, Boyle Heights
This building on the corner of Breed Street and Michigan Avenue was originally the Mount Sinai Breed Street Outpatient Clinic, meant to serve what was then the neighborhood's large Jewish population. In 1955, the clinic moved to a location near Beverly Hills, and in 1961 it merged with Cedars of Lebanon Hospital in East Hollywood to become Cedars-Sinai Medical Center. Today, the building is the offices for L.A. Family Housing's Comunidad Cesar Chavez Family Shelter.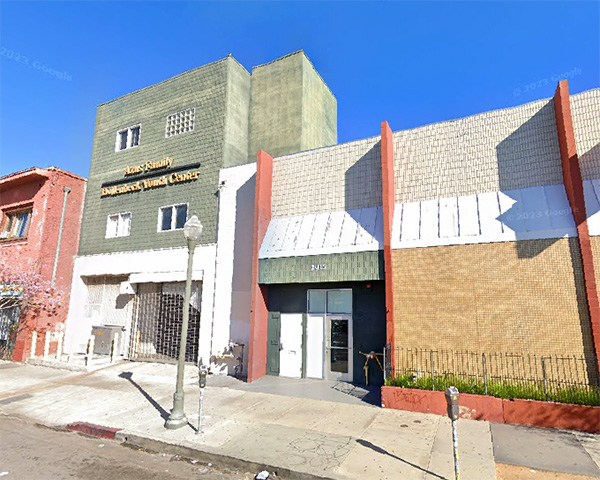 4. Hollenbeck Youth Center
1976
2015 E. First St., Boyle Heights
Established as a partnership between local businesses and the LAPD to provide activities and opportunities for local youth as a response to local riots and student protests in the early '70s, this youth center has benefited many kids from The Barrio, notably a local boy named Oscar de la Hoya, who first trained at the center's boxing gym as a youth before winning an Olympic Gold Medal in 1992.
NAVIGATIONAL NOTE: If heading to DTLA, skip to #7.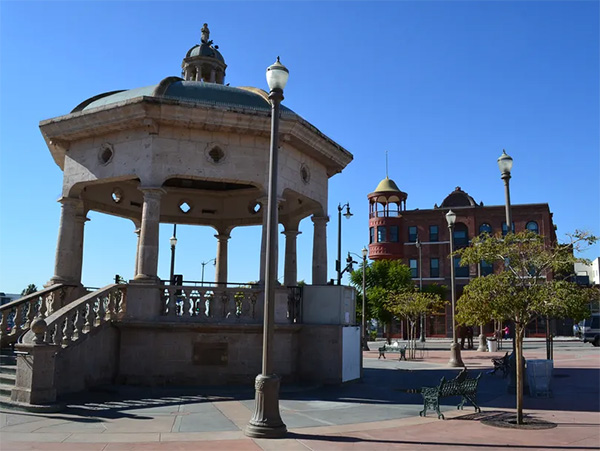 5. Mariachi Plaza
1889
1st St and Boyle Ave, Boyle Heights
This is the new town square for Boyle Heights, where Mariachi musicians have been hanging out to get picked up for since the 1930s. The Kiosko, or bandstand, that sits in the plaza is actually not that historic. It was given as a gift from the Mexican state of Jalisco, who literally shipped it over in 1998 where it was assembled in place. But it only gets used once a year for the Santa Cecilia Festival around every November 21. The plaza is also home of the Metro E Line station of the same name, which opened in 2009 (as the Metro Gold Line). This place could warrant a Militant blog post in itself — no, an entire week of posts! Don't miss the Farmers Market events there every Friday and Sunday!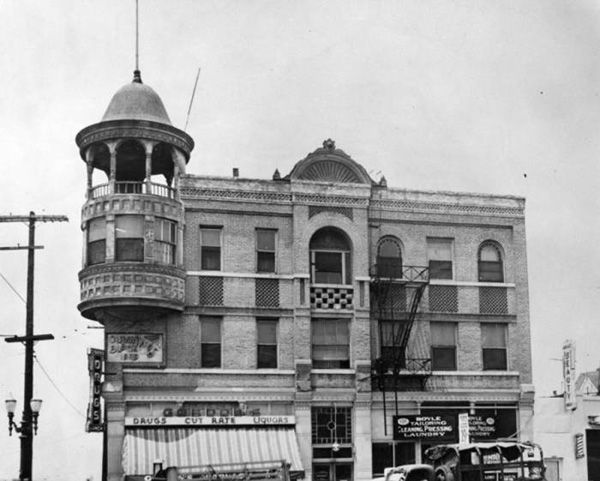 6. Boyle Hotel/Cummings Block
1889
103 N. Boyle Ave, Boyle Heights
This brick Queen Anne-style building, built in 1889 and designed by architect W.R. Norton was one of the first commercial buildings in Boyle Heights, and is one of the longest-standing commercial buildings in all of Los Angeles. The hotel was an important social and political center in the late 19th and early 20th centuries, and in the 1960s, started to become a popular lodging spot for Mariachi musicians. It recently underwent a major renovation which created 51 low-income housing units and three street-level retail units, one of which is home of the Libros Schmibros bookstore/lending library.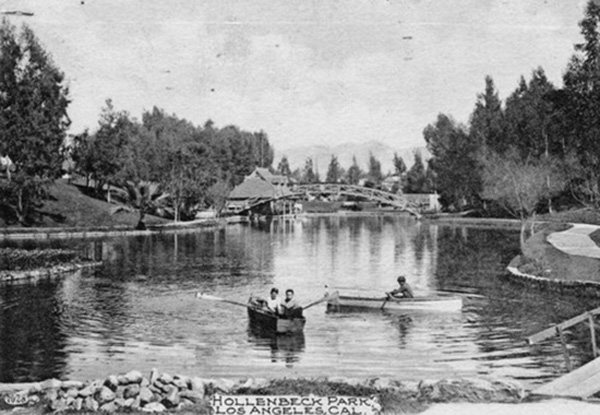 7. Hollenbeck Park
1892
4th and St. Louis streets, Boyle Heights
John Edward Hollenbeck was a rich dude in the late 19th century who founded the First National Bank of Los Angeles and purchased parcels of land in Downtown, the San Gabriel Valley and the Eastside, where he made his home. Hollenbeck was also credited with the creation of what is now called Exposition Park. His sister married his friend, James George Bell, who founded…Yep, you guessed it! After Hollenbeck's death in 1885, his widow, Elizabeth, donated a 21-acre parcel of land, which was essentially their front yard, to the City. One of the Los Angeles' oldest parks, it was established in 1892 and continues to function today.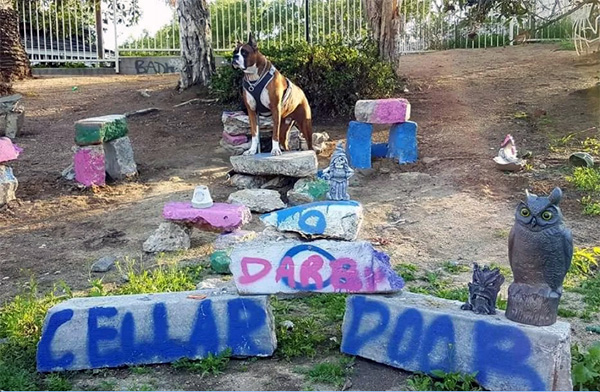 8. Boyle Henge
2015
Southwest corner of 6th Street and Boyle Avenue, Boyle Heights
On the Boyle Heights side of the 6th Street viaduct stands a curious, quirky, ever-changing assemblage of concrete blocks (resembling the referential Druid structure in the English countryside), and sometimes garden gnomes and animal statues. Whatup with this? Apparently it's an art installation made by some locals who call themselves "Circle 6," that were "inspired by the work of artists Christo and Jeanne-Claude." Boyle Henge even has its own Instagram account.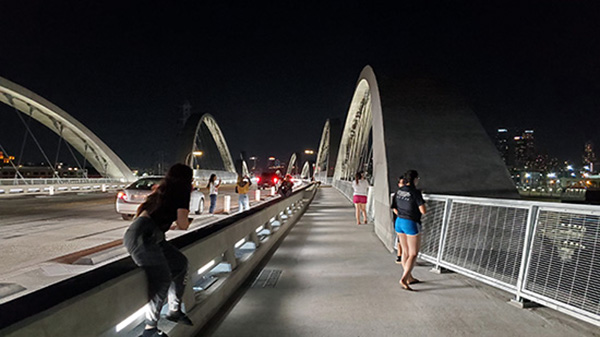 9. 6th Street Viaduct (2.0)
2022
6th Street over the Los Angeles River, Downtown Los Angeles & Boyle Heights
The 6th Street Viaduct is really a tale of two bridges: The first, built in 1932, crossing over the Los Angeles River and several railroad tracks, lived a decent life serving as a 24-hour mediator between Downtown Los Angeles and Boyle Heights, occasionally doing extra work in movies, television shows and music videos. But in the mid-2010s, it was diagnosed with Alkali-Silica Reaction, a very lethal disease it had since birth, where high alkaline content in the concrete would cause it to become brittle and collapse in an earthquake. So it had a farewell celebration in October 2015 and it was euthanized in February 2016.
But, after a 6-year re-animation process in July 2022, the 6th Street Viaduct 2.0 was reincarnated into a slick, cybernetic form. It had large curving arches (that people could easily climb on), bright, programmable LED floodlights (that made it Instagram-friendly) and a wider road where people could do donuts and…things got out of hand. The bridge was closed for a time, because of the behavior of 21st century people and their reactions with 6th Street Viaduct 2.0.
But things have calmed down since and today you can ride, walk, jog, scoot or just chill on 6th Street Viaduct 2.0. It has since become another visual icon of Los Angeles and one of the city's most unique public spaces.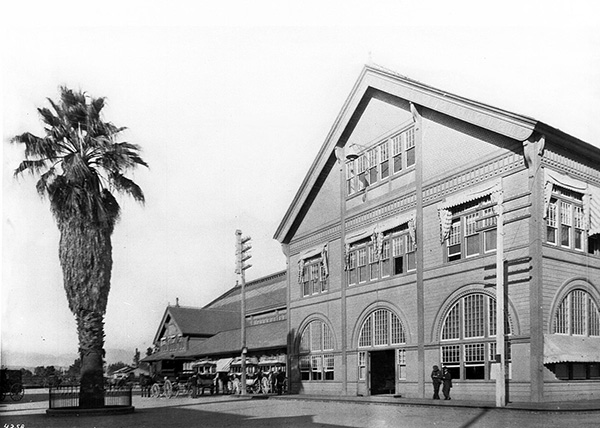 10. Site of Southern Pacific Arcade Station
1888-1914
4th and Alameda streets, Downtown Los Angeles
Before there was a Union Station, there were various rail passenger terminals in Los Angeles, many of them just a short distance from the Los Angeles River. On what currently stands as a large shopping mall, this was the original site of the Southern Pacific Railroad's Arcade Station which served passengers up until 100 years ago. A popular landmark of this station was a young palm tree, which was moved a century ago to Exposition Park where it stands today, much taller, in front of the Los Angeles Memorial Coliseum. Unfortunately for indie rock fans, the Arcade Station was not devastated by a Fire, but was dismantled and replaced by a new station, the Central Station, located one block south.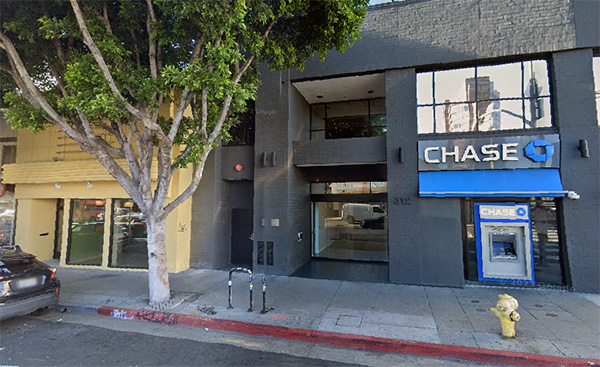 11. Site of Quaker Dairy, The First Little Tokyo Restaurant
1890
304 E. 1st St., Little Tokyo
On the southeast corner of 1st and San Pedro streets once stood the Quaker Dairy, a restaurant started on this site in 1890 by Sanshichi Akita, an immigrant from Japan. Though preceded five years earlier by Kame Restaurant, founded by Hamanosuke "Charles Hama" Shigeta on First St (location unknown), this is the oldest known location of a Little Tokyo business (The oldest still-operating business in Little Tokyo is the Fugetsu-Do confection shop (established 1903) across the street). By the end of the 19th century, there were over 16 Japanese-owned restaurants in this stretch of 1st Street, creating what we know as Little Tokyo.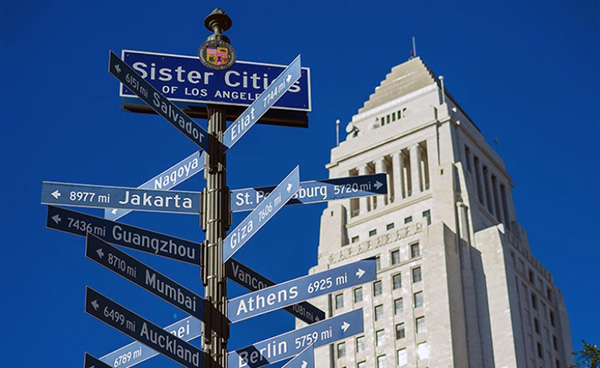 12. Los Angeles Sister Cities Monument
1987
1st and Main streets, Downtown
On the northeast corner of 1st and Main streets stands a pole bearing signs (in the "Blue Blade" style, no less) for every one of Los Angeles' 25 Sister Cities, each pointing towards their location. The signs range from Lusaka, Zambia (the farthest sister city, 10,017 miles) to Vancouver, Canada (the nearest, 1,081 miles) and everywhere in between. Nagoya, Japan is Los Angeles' oldest sister city (1959); Yerevan, Armenia is the newest (2007). Los Angeles, an Olympic host city (1932, 1984, 2028) also has that in common with sister cities Athens (1896, 2004), Berlin (1936), Mexico City (1968) and Vancouver (2010).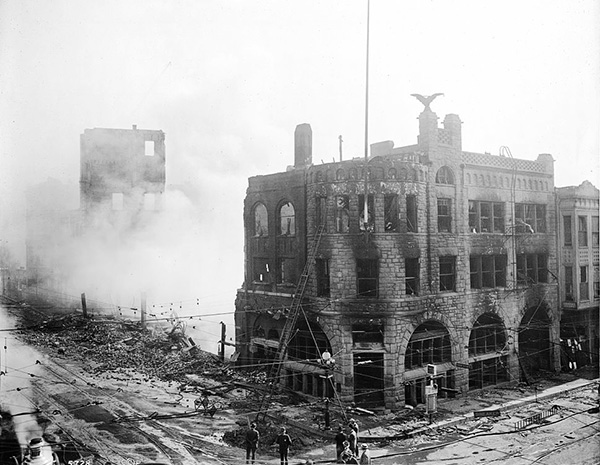 13. Site of 1910 Los Angeles Times Bombing
1910
Northeast corner of Broadway and 1st Street, Downtown
This longtime empty lot, previously the foundation of a state office building condemned after the 1971 Sylmar Earthquake, has some additional history. It was recently dissevered to be the location of the 1910 bombing of the (then) Los Angeles Times building, which happened 113 years ago this month. The dynamite bombing was discovered to have been the work of Ortie McManigal and brothers John and James McNamara, all affiliated with the Iron Workers Union, in what was meant to protest the newspaper's staunchly anti-union practices at the time. Twenty-one people died when the 16 sticks of dynamite exploded just outside the building at 1:07 a.m. on October 1, 1910. The explosion was exacerbated by natural gas lines which blew up a large section of the building. The Times since built a new building in its place, and later relocated across 1st Street before it moved out to El Segundo in 2018. The site may or may not be a public park in the future.
NAVIGATIONAL NOTE: If heading north to Chinatown, skip to #23.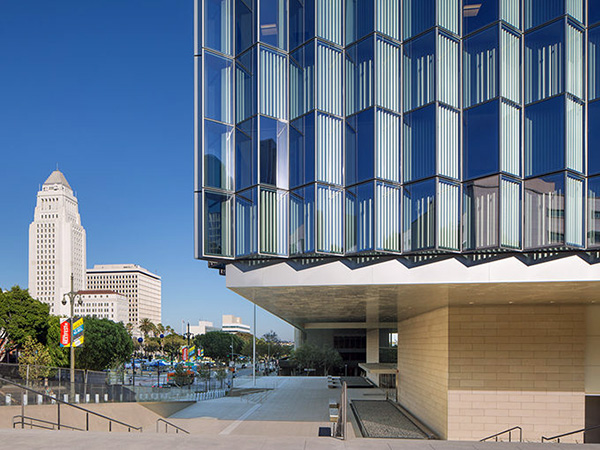 14. U.S. Federal Courthouse
2016
145 S. Broadway, Downtown
This big glass cube that is responsible for blocking your view of the Downtown Los Angeles skyline from Grand Park used to be a hole in the ground was once the site of the Junipero Serra State Office Building, which was damaged in the 1994 Northridge Earthquake and abandoned and demolished in 1998. This 10-story, 400-foot-tall U.S. Federal Courthouse building (don't we already have a few of those?), designed by Skidmore Owings and Merrill, opened in 2016. Do check out the super subtle embossed-glass bald eagle situated over the main entrance on 1st Street.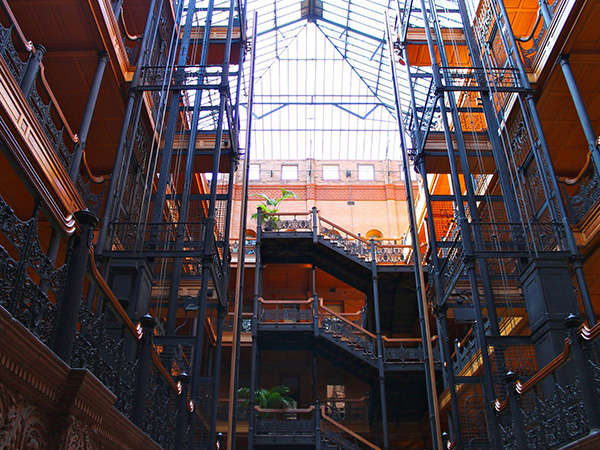 15. Bradbury Building
1893
304 S. Broadway, Downtown
A building that's famously meh on the outside, but OMG from the inside, this building has been featured in movies from Chinatown to Blade Runner to 500 Days of Summer. Designed by Sumner Hunt and modified by George Wyman, this 5-story Italian Renaissance Revival/Romanesque Revival structure was designed to look like the 21st century from 19th century eyes. Despite the ahead-of-its-time design, this building has nothing to do with sci-fi author Ray Bradbury, but was named after developer and 1800s rich dude Lewis Bradbury, who founded his namesake city in the 626.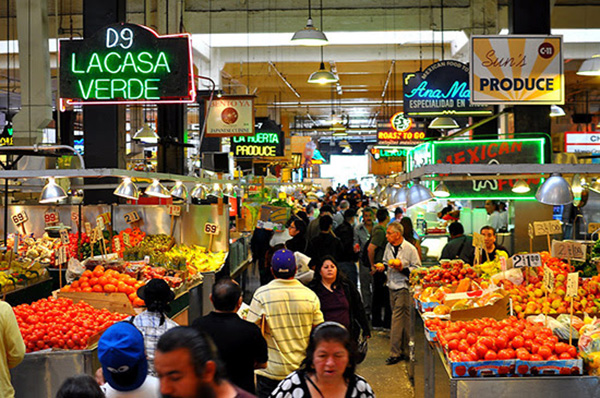 16. Grand Central Market
1917
317 S. Broadway, Downtown
Everyone knows this is Los Angeles' premier public marketplace, and the Militant probably doesn't need to include this since you may or may nor already be getting your Eggslut on (The Militant, on the other hand, prefers tacos and tortas from Roast To Go, and will incite a riot in the event that eatery is kicked out by gentrification). 106 years old and still going strong!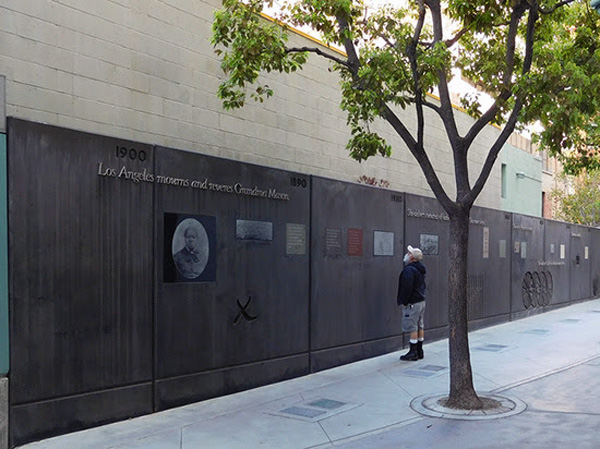 17. Biddy Mason Park
1991
331 S. Spring St (entrance on Broadway), Downtown
Born into slavery in Georgia over 200 years ago, Bridget "Biddy" Mason was a renaissance woman of her time. Having followed Mormon settlers west, she gained her freedom when California became a slavery-free Union state. As a nurse, she founded the first child care center in Los Angeles and later became a lucrative property owner and philanthropist, having founded the First AME Church, now a major institution in Los Angeles' African American community. She died in 1891 and was buried at …Evergreen Cemetery (which you might have also seen earlier…see how things all tie together?). A century after her passing, this mini-park in DTLA, on the site of her house, was built and dedicated.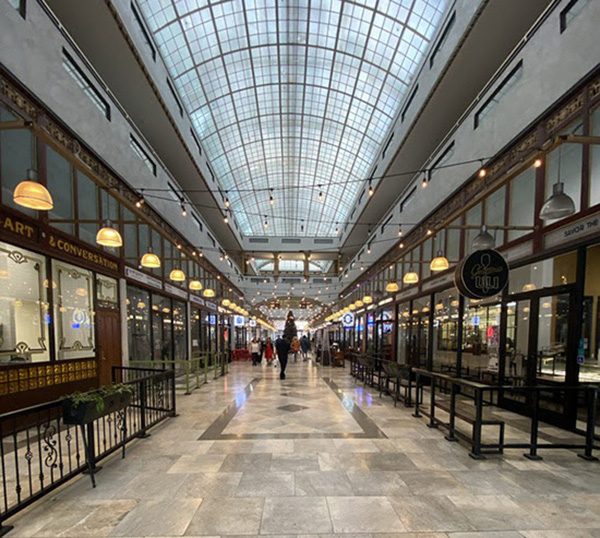 18. Broadway-Spring Arcade Building
1924
541 S. Spring St, Downtown
This unique building is actually three, opened in 1924 on the site of Mercantile Place, a 40-foot street cut between 5th and 6th streets connecting Broadway and Spring. Mercantile Place was a popular shopping and gathering locale in the early 1900s. Having fallen into decay by the 1970s, it was recently renovated and is now famous for, of all things, vendors selling rock band t-shirts. It has also become an artistic venue during the DTLA ArtWalk events (Hey, remember those?). And The Militant probably doesn't need to mention that this building is home to the DTLA Guisado's.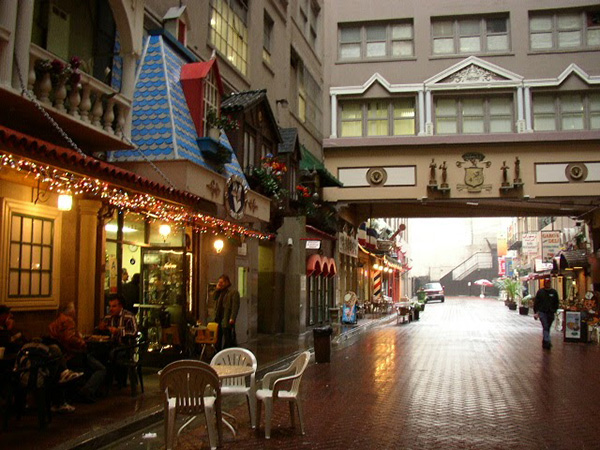 19. St. Vincent Court
1868
St. Vincent Ct and 7th Street, Downtown
You'd hardly knew it was there, but this alley nestled between Broadway and Hill (blink and you'll miss it!), with its decorative brick pavement and European decor, seemingly belongs to another world. Originally the site of a Catholic college that was the predecessor of today's Loyola Marymount University, today it's a unique food court featuring Armenian and Middle Eastern eateries. The Militant calls it, "Littler Armenia." If the place looks familiar, it's also where Taylor Swift frolicked in the rain in the music video of her 2018 song, "Delicate." For more on St. Vincent Court, check out this 2008 Militant Angeleno post for more info!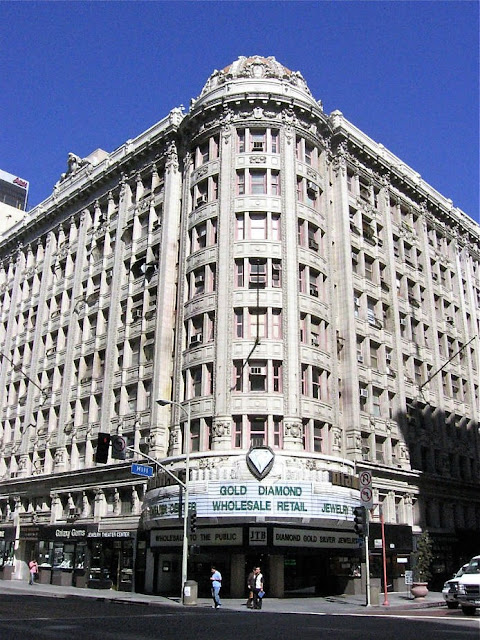 20. 'Diamonds' Theatre (Warner Theatre & Original Pantages Theatre)
1920
401 W. 7th Street, Downtown
This jewelry retail mart is actually a re-purposed theatre that was once the original Pantages Theatre, opened in 1920 by Greek American entertainment magnate Alexander Pantages for Vaudeville productions. Designed by B. Marcus Priteca (who also designed today's Pantages Theatre in Hollywood), it was sold in 1929 and eventually became the Warner Theatre, screening motion pictures from the WB during the days when the movie studios ran their own theatres. The theatre closed down in 1975 and became a jewelry mart in 1978.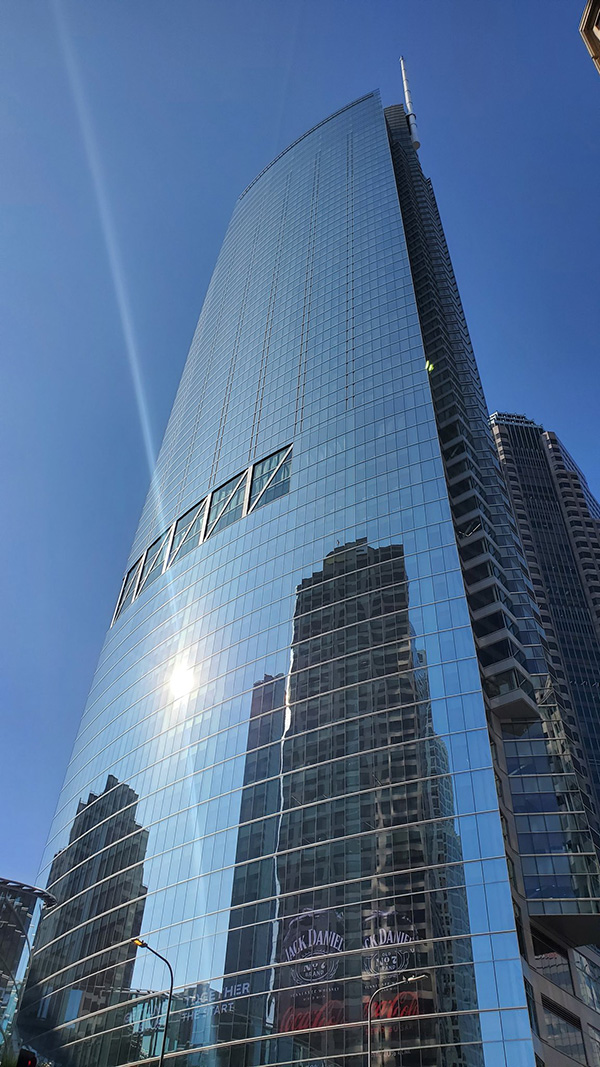 21. Wilshire Grand Center
2017
900 Wilshire Blvd, Downtown
The Wilshire Grand Center, Los Angeles' (and the West's — suck on it, Transbay Tower SF!) tallest building at 73 stories and 1,100 feet (kinda sorta, there's a spire, you see…) opened in June 2017 and is the city's only modern skyscraper without a flat roof, the only Los Angeles building since Hollywood's Capitol Records tower in 1956 to feature a spire, the first skyscraper anywhere to sport a mohawk, and it also has its own irreverent Twitter account. 😉 Owned by Korean Air (hence the red and blue taeguk LED logo), the tower houses the 900-room Hotel Intercontinental with its 70th-floor Sky Lobby and the unique Spire 73 skybar, with wonderful views of the south and west (the sunset vista from here is not to be missed). The building's construction site was the location of "The Big Pour" – which lasted from February 15-16, 2014, where 21,200 cubic yards (81 million pounds) of concrete for the tower's foundation were continuously poured – earning it a Guinness World Record for that feat. Before the skyscaper, the site was home of the Wilshire Grand Hotel, formerly (in reverse chronological order) the Omni Hotel, Los Angeles Hilton, Statler Hilton and Statler Hotel.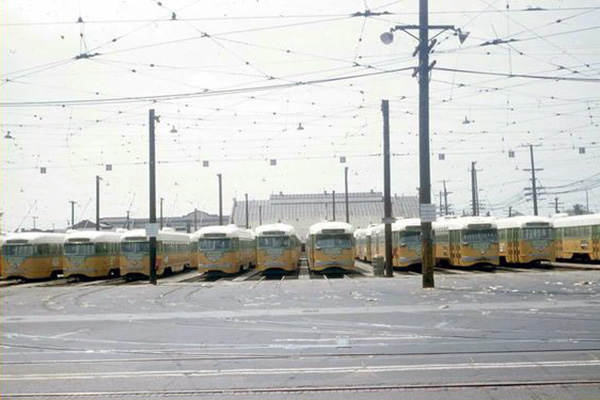 22. Convention Center/Site of Georgia St. Streetcar Facility
1901
Georgia St and 11th St, Downtown

This site is home of today's Convention Center and was once envisioned to be the Farmers Field NFL stadium (remember that one?), but it was also the Georgia Street Shops – a major streetcar maintenance facility in yesterday's world serving trolleys for the old Los Angeles Railway (Yellow Cars) which serviced 25 percent of its entire fleet. After the system ended in 1963, the large swath of land became a prime location for the city's Convention Center, once proposed to be located where Dodger Stadium now stands.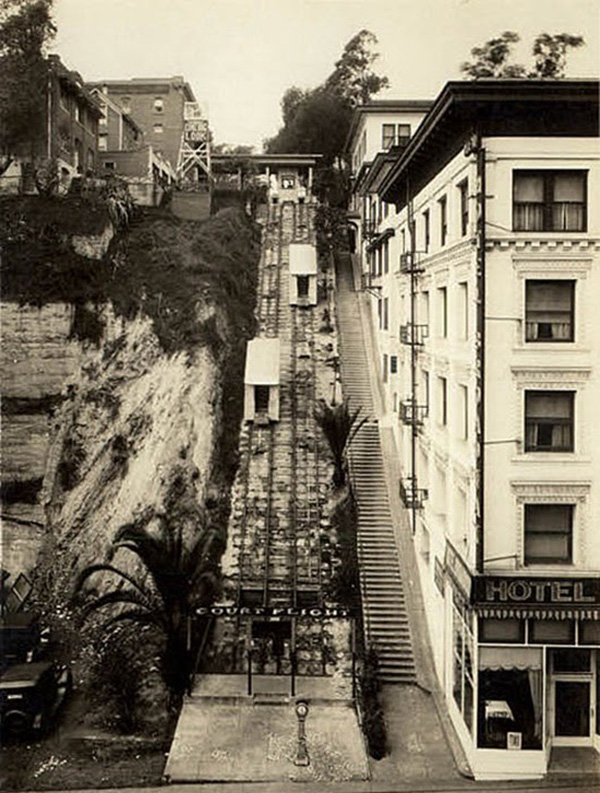 23. Site of Court Flight
1904 (demolished 1943)
Broadway between Temple and Hill streets, Downtown
You all know Angels Flight, but it's time to pay tribute to the city's other funicular, its cousin to the northeast, Court Flight. Built in 1904, it went up the northern end of Bunker Hill and was next to a former road called Court Street, hence its name. Even shorter than its more famous cousin at 200 feet, it ran steeper at a height of 200 feet. It was burned by a fire in 1943 and never reconstructed. The hill was eventually chipped away to create the Civic Center. The north side of the stairways going up to the Court of Flags (wonder if that was intentional there) in today's Grand Park is the precise location of ol' Courty.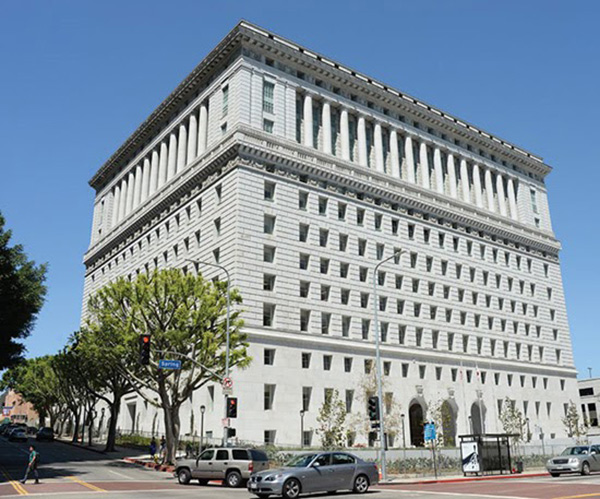 24. Hall Of Justice
1926
Temple Street and Broadway, Downtown
No, you won't find Superman or any of the Super Friends here. But this building, the oldest surviving government building in the Los Angeles Civic Center, was built in the mid-1920s as the original Los Angeles County Courthouse and Central Jail (which once housed the likes of Busy Siegel, Sirhan Sirhan and Charles Manson), as well as the headquarters for the Sheriff's Office, the District Attorney and the County Coroner. This Beaux Arts-style building was designed by Allied Architects Association, an all-star team of local architects put together to design publicly-funded buildings. In the 2010s, the building underwent a major renovation project to modernize the facilities and repair damage from the 1994 Northridge Earthquake. It is now a LEED Gold Certified building (gotta be sustainable, y'all), following the 2015 restoration.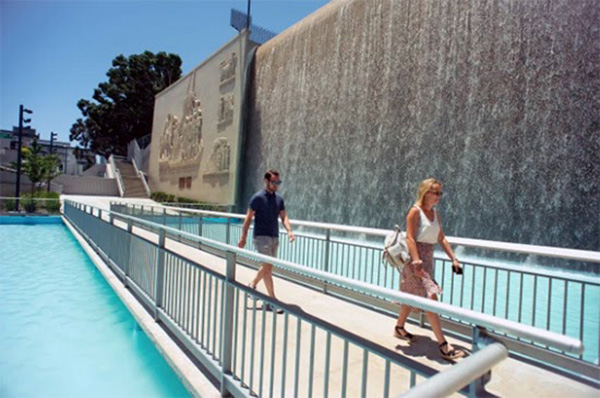 25. Fort Moore Pioneer Memorial
1957
451 N. Hill St, Downtown
Way, way, waaaaay back before we had tall building and freeways, Downtown Los Angeles (well Los Angeles, period back then) had a bunch of hills, Bunker Hill being the most famed one. There was also Fort Hill, the site of a Mexican-American War encampment. On July 4, 1847 the facility was called Fort Moore (and the hill Fort Moore Hill), after Captain Benjamin D. Moore of the U.S. 1st Dragoons regiment, who was killed six months earlier in a battle near San Diego. The 1st Dragoons and the Mormon Batallion established the new fort and raised the U.S. flag during the first-ever observed Independence Day in Los Angeles. This event was immortalized in a bas-relief stone monument made in the 1950s. Speaking of forts, the very street you're riding (or walking, or skating, or scootering, or stand-up-paddling, or pogo-sticking) was once called "Fort Street," which inevitably led to directional problems some six blocks south of here. The monument also includes a fountain, which was shut off in 1977…due to the drought at the time, but revived in 2018 after a massive renovation. So where's the actual hill, you ask? It was bulldozed away in the late 1940s to make room for the 101 Freeway.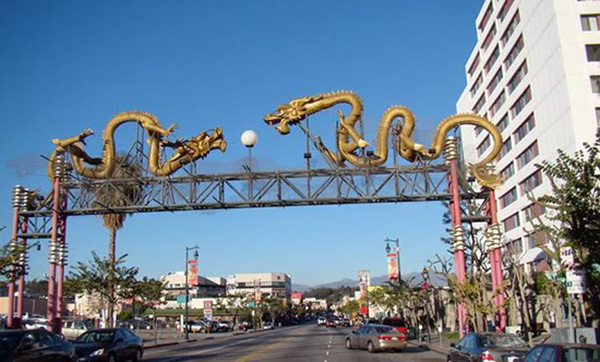 26. Chinatown Gateway Monument
2001
Broadway and Cesar E. Chavez. Avenue, Chinatown
Designed to be the symbolic entrance to Los Angeles' Chinatown District, The Chinatown Gateway Monument, a.k.a. the Twin Dragon Towers Gateway, depicts two dragons grabbing at a central pearl, which symbolizes luck, prosperity, and longevity. The 25-foot-tall structure was put up in 2001 and occasionally emanates steam coming from the dragons' mouths. Unlike Anglo dragons, the creatures in Chinese folklore are the good guys, meant to scare away evil spirits.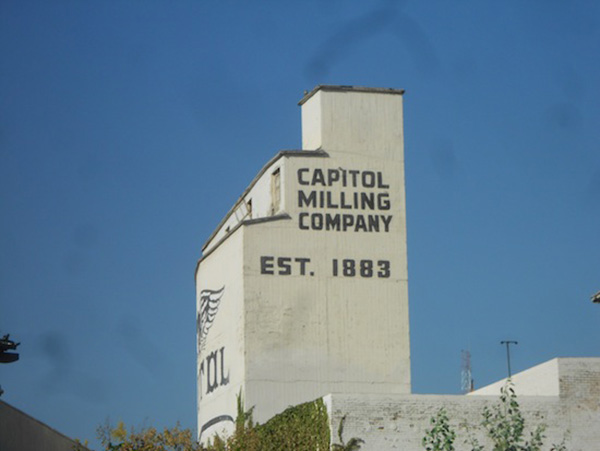 27. Capitol Milling Company
1883
1231 N. Spring St, Chinatown
One of the last visible vestiges of Los Angeles' agricultural industry, this family-owned flour mill operated from 1831 to 1997, before moving its operation to a much larger facility in Colton. The facility that still stands today was built in 1883. The mill supplied flour to clients such as Ralphs, Foix French Bakery and La Brea Bakery. In 1999, the family-owned operation was purchased by industry giant Con-Agra Co. The historic building – the oldest commercial building in Los Angeles, built even before the railroads arrived in Los Angeles, still has a horse-tethering ring, back to the days when grain was hauled by horse carriage from farms in the San Fernando Valley. The eight-building complex, now owned by the Rivoli family (who owns the San Antonio Winery across the river), underwent a massive renovation completed in 2020 so that the 19th century facility can live on in the 21st century as office, retail and restaurant spaces.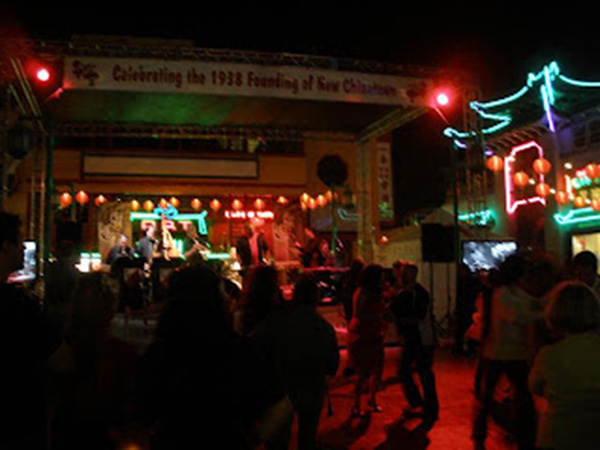 28. Old (New?) Chinatown Central Plaza
1937
Gin Ling Way between Broadway and Hill, Chintown
The northern terminus of CicLAvia is no stranger to public events; it was made for them. During the Summertime it hosts KCRW's popular Chinatown Summer Nights parties. But don't let the "Old Chinatown" neon sign fool you — This is actually Los Angeles' new(er) Chinatown, which dates back to the 1930s. The real Old Chinatown was several blocks south, where a thriving community of Cantonese-speaking immigrants lived near the river, north of Aliso Street. Of course, they were kicked out in the early '30s to make room for Union Station. So they moved a few blocks north, in the former Little Italy, and they've been there ever since. Well, not really, since some of them moved east to the San Gabriel Valley and were supplemented with Mandarin-speaking immigrants from Taiwan and Mainland China. But you get the idea.
BONUS: THE OFFICIAL MILITANT ANGELENO EPIC CICLAVIA TOUR FOOD GUIDE!
El Tepeyac Cafe
1955
812 N. Evergreen Ave, Boyle Heights
This institution founded by the late, great Manuel Rojas and certified shrine to the burrito absolutely needs no introduction, other than to remind you that it's but a short 3-minute ride from the CicLAvia route. Hollenbeck, anyone?
Otomisan
1956
2506 1/2 E. 1st St, Boyle Heights
One of the most prominent vestiges of the "Little Tokyo East" area of Boyle Heights, this Japanese restaurant, which The Militant has eaten in, checks-off the "Local Gem," "Hole-In-The-Wall," "Greasy Spoon" and "Mom-And-Pop" boxes. The building was built by local businessman Ryohei Nishiyama in 1928 to serve the streetcar-accessible (That's the Los Angeles Railway's P-line) commercial strip. The building originally hosted a Japanese grocery store, a florist and a barbershop. In the 1950s, the grocery store was converted to a Japanese confectionery and later Otomisan Restaurant, which has been in operation since 1956. The restaurant is indirectly referenced to in the first episode of the 2021 Netflix children's series, City of Ghosts.
Al & Bea's Mexican Food
1966
2025 E. 1st St, Boyle Heights
If the massive Hollenbeck Burrito is too daunting for you, then ride on over to Al & Beas for a more modestly-sized, yet almost as iconic Eastside burrito (the Bean & Cheese is the standard-bearer here). Founded by Albert Carreon and his wife Bea, the popular Mexican food stand opened in November 1966 to revive a short-lived food stand that another party operated in front of his parents' house. Today, the institution is still family-owned, run by Albert's grandson Albert Carreon III.
Pioneer Chicken
1981
904 S. Soto St (at Whittier Blvd), Boyle Heights
One of the two surviving locations of the once-revered Pioneer Chicken restaurant chain that boasted 270 stores. Originating in 1961 as an off-shoot business of the Pioneer Market local supermarket chain, the fried chicken franchise outgrew the size of its mother business exponentially. Though the old chain ceased to exist in 1993, this location, operating since 1981 (the other is in Bell Gardens) lives on as an independently-run vestige of a tasty, crunchy past. The colorful cardboard buckets may be gone, but the fried chicken (and gizzards) tastes as good as Back In The Day. Forget Popeyes, Jollibee, KFC or any of that trendy hot Nashville stuff, this is old school fried chicken right here, just a few blocks east of the CicLAvia route!
Smorgasburg Los Angeles
2016
The Row DTLA, 777 S. Alameda St, Industrial District
Just a couple blocks south of the CicLAvia route down Central Avenue is our local edition of the humongous Smorgasburg open-air weekly food festival, which operates during the same hours as CicLAvia. Pretty much knock yourself out here. The best thing is, you won't have to waste any time queueing into the parking garage – there's ample bicycle racks at The Row DTLA!
Chinchikurin
2018
350 E. 1st St, Little Tokyo
Prepare yourself for the phenomenon known as Okonomiyaki. It's an 11-layer, pan-fried, meal-within-a-meal which originated from Hiroshima consisting of a pancake-like base, noodles, egg, seaweed, sauces, cabbage, tempura flakes, green onions, dried fish powder, bean sprouts, and your choice of meat/fish/tofu. It's kind of like a Japanese version of a tostada. But even more epic. The line out the door is usually crazy on weekends, and it's probably going to be even moreso on CicLAvia Sunday, but it's definitely worth the experience.
The Original Pantry Cafe
1950
877 S. Figueroa St, Downtown
Y'all know this establishment for its coffee, its cole slaw and longtime owner, the late former mayor Richard Riordan. It was one of DTLA's first 24-hour restaurants when it opened in 1924 and hasn't closed since (kinda). But did you know it was originally located a block away? Its original location was 9th and Francisco streets, which had to be torn down to make room for a Harbor Freeway off-ramp in 1950. Today it remains a Downtown institution, popular for dining after nearby sporting events, clubbing or drunken bar-hopping.